Aruba 2004

by Marcus Coltro
View from the plane
Most of our trips are not really planned ahead - many are decided in two weeks or less before we start traveling. Aruba was no different. I called Alfredo and told him to meet me in São Paulo where we would take a flight to Miami and from there to Aruba. Why Miami? It is cheaper than flying directly using a Brazilian airline. I did not mind since that would permit me to visit my brother Marcello, who lives in Miami, for a couple days. Before confirming the trip, I wanted to take a look at the weather on the Web. Things seemed to be really bad, with a forecast of thunderstorms exactly for the week I wanted to be there. But I needed some new shells for my list so I thought it wouldn't hurt to get some rain while diving there. Thus we arrived in Miami on a Friday and left for Aruba on Sunday.

Things have changed there in the past 12 years; the airport is larger and nicer, it no longer has the look of a 1992 bus station. I rented a car and went to our hotel - not luxurious but with a kitchen which proved to be a real necessity after paying US$ 30 at a Pizza Hut on the way to the hotel. Everything is expensive and imported and if you buy anything using US dollars they will try to cheat you when making change. It is still a colony belonging to The Netherlands and it depends on tourism - you will find people from all over the world there. Casinos and duty free shops are all over the place. Although this was not high season, the traffic was terrible; mostly local people going to work or back home so I can't imagine what will happen in a few more years.

After we left our luggage at the hotel, we went to do our first night dive in Malmok and collected a few things, again shells seemed to have disappeared due to 'progress' on the island. We returned the next morning to the same spot and parked our car where we could see it from the water. We took some snorkeling gear with us and left our night gear in the trunk together with an ice chest with our lunch and a couple of beers (for relaxation purposes...). I was going to carry the keys with me tied to my Speedo shorts under my wetsuit, but noticed that I forgot to lock the door after I was ready to go in the water, so I unlocked the passenger door to get inside and lock the driver's side. I don't need to tell you, my Attention Deficit Disorder made me forget to do so and I only remembered after I was already snorkeling. But I thought to myself "this is a safe place, not to worry...."

I collected some nice small shells and after a couple of hours, heard a siren - a police car was near our car and an officer was waving his arms at me. "Did I park in some forbidden place"? No... someone broke into my car and when I was got close I could see the broken glass (they did not notice that the car was unlocked, dumb thieves!). Being a regular paranoid who lives in a city of 20 million like São Paulo, before I left my shorts under the seat, I had hidden my credit card under the dashboard. Lucky me - they took my shorts and cash from Alfredo's shorts. Nothing else. Not even the beer, how nice of them! We had more than US$ 300 in diving gear but they were looking for cash only.
That was the first day - in the following days, we did not carry anything with us and Hertz gave us another car with alarm. This made me hide the key under rocks or buried in sand since I could not go into the water with it (I made sure Alfredo saw where I hid it just in case I forgot the place). Happily, nothing else happened and we were able to collect nice shells the entire week.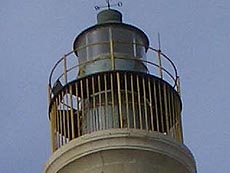 The beach where we collected Marginellas in 1992 is no longer accessible - they built a port closing the beach. We tried to snorkel at night near the place, but the water was so milky we couldn't see anything more than 1 meter away. It was located behind an artificial reef so it was really dark; in summary, we couldn't see anything under or above water, a very pleasant place to be at night.
Cyphoma gibbosum and Astraeas had vanished as well. Cerions are still there but I can tell you that the thorns from those cacti are very painful when you step on them; Every time I had one of them under my skin, I wanted to raise the price for each shell (I brought one thorn back inside my foot as a souvenir).
On the east side, the beaches are still somewhat deserted and there is no pavement (nothing you would call a road, anyway). We went to Baby Beach one day and it was quite difficult to reach the beach. The small pathway was either too rocky or with deep sand pockets - guess whether we got stuck on sand? There was no living soul nearby, which made me really worry about leaving the car alone again, so I left the car stuck on sand for security reasons. The water was clear but the currents were very strong; we had to grab onto something on the bottom in order to see anything without getting carried away by the current. Not many shells, and after three hours of snorkeling we were very tired - and we still had to clear the wheels of our car before getting back to the road. We were glad that there was so much junk there that we could build a path under the car and get off the sand easily.
Weather? Sunny, not a single drop of rain; perhaps Hurricane Frances had something to do with it. On our way back we could not return via Miami as Frances was visiting the Sunshine State. American Airlines kindly changed our itinerary to a "shortcut" via Puerto Rico and New York in Business Class - longer flight but much nicer seats!
After 23 hours of traveling we were back home...