Traveling from Brazil to New Zealand or any other place in the Pacific is quite expensive, so since Carlos and I had some extra time in NZ, we went to a travel agency in Auckland and bought a package to the Cook Islands to try to collect some more shells.

We arrived in the capital, Rarotonga, very early in the morning and went straight to our hotel, Paradise Inn (http://www.paradiseinnrarotonga.com/). The hotel is right on the beach, and our room was well supplied with a kitchen and space enough for our mess of shells and diving gear. The owners, Pam and Marc, were very nice and helpful; they even offered to keep our luggage while we went to Aitutaki (the second part of this article).

Our first try at finding shells was not very satisfactory - the only shell we found in front of the hotel was a lousy Cerithium! The island is relatively large and looked promising, although friends told us that we wouldn't find anything. It has a nice road near the shore, which goes all around the island, and buses run in both directions (labeled "clockwise" and "counterclockwise"!). But we needed more flexible transport - I didn't dare rent a car since they drive on the "wrong" side of the road. The easiest way was to rent a scooter (moped), so we went to get two of them at one of the many rental places. To rent them it was necessary to get a provisional driver's license and if we didn't have a motorcycle driver's license, then we would need to take a short driving course. Carlos and I used to have motorcycles, so that was not a problem - so now we are the proud owners of a Cook Islands Driver's License!

Cook uses NZ currency, and most things we found on the island were imported from there as well, including the precious alcohol we use to preserve our finds. There are several nice expensive hotels on the island, many aimed at honeymooners and couples coming from all over the world. Where these nice hotels are, there are usually diving centers as well, and we were able to rent there some lead belts for diving. (I am tired of leaving lead behind on my trips...).

We drove to Muri beach, a nice place with three islands near the shore. The water was warm and nicely turquoise-colored. Well, after 6 hours of snorkeling, warm water does not feel so warm any more, and turquoise does not necessarily mean clear. In many places the visibility was not so great, but of course much better than we are used to in Brazil.

If you read my article about New Zealand, you already know how customs can be a pain in the neck when it comes to shells. If they took away some of my neatly cleaned shells, what would they do with stinky rotten ones? To avoid returning from Cook and passing through NZ customs with shells that we collected in NZ, we rented a locker and left two suitcases in Auckland. So we had two fewer pieces to carry too....

We tried not to collect anything too large, but the temptation was too great. We found several huge Tectus niloticus, Tridacnas (well, those we wouldn't take anyway because of CITES) and other large things. The largest shell was collected by Carlos and I let him keep it: a giant Conus leopardus. Trochidae, Mitridae, Ranellidae, Columbellidae, Coralliophilidae and many bivalves were our best finds.

We did not find as many shells as we wanted, but they were very diverse. Small shells and land shells from this place are virtually impossible to obtain from any source, but we found them! There are forests and hills where we could hike and look for land shells. We did find some small species (still working on IDs) and lost a few milliliters of blood to mosquitoes.

Our next stop would be Aitutaki, a small atoll near Rarotonga. Our nice hosts warned us about weight limitations on the plane, and advised us to leave our heavy stuff. Otherwise we would need to rent a locker at the airport, not to mention creating a mess by having to repack our material. Thus, we left one large suitcase and one carry-on at the hotel. It felt weird traveling with less and less luggage... but I am glad we did, the plane was very small - only 10 people!

We left very early in the morning and arrived in Aitutaki - a beautiful island and..... TO BE CONTINUED...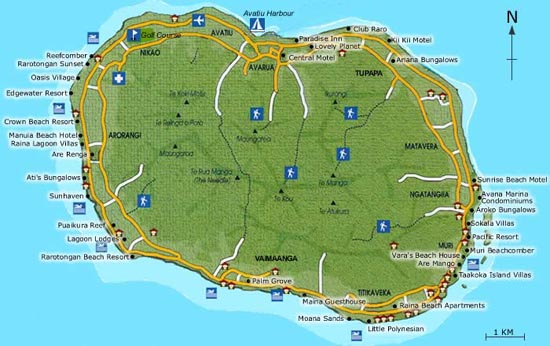 Rarotonga